1
To make sure that you get the most from our Pay Per Click Managment service it is structured in three stages:
If you are ready to sign up for your free healthcheck now, fill in our quick online form. Alternatively, find out more by watching our flash movie, or reading about our services below.
Free PPC Healthcheck
A Tailor-made Analysis
Our Free Health Check is a tailor-made, written analysis of your current Pay Per Click (PPC) advertising campaign(s). Our aim is to give you a realistic, practical insight into how your campaign could be improved so as to increase the amount of profitable traffic coming through to your website.
Our free offer is open to all companies or individuals that have a Google Adwords account with a daily spent amount of £20.00 or more.
Full Control
It's important to realise that your PPC campaign will not be altered in any way during this process. We will simply analyse in detail the elements that make up your AdGroups and observe the performance of these factors in your current campaign.
Honest & Professional Problem Solving
Your campaign will be analysed by one of our Google Adwords Professionals. They're richly skilled across the full life cycle of a search engine positioning campaign and it's their job to give you honest, workable best-fit strategies that make sense to you. If our PPC account managers find our approach cannot help increase the amount of profitable traffic coming through to your website, we'll tell you! Our efforts concentrate on honest, professional problem solving. If you don't have any problems, we will not waste your time.
It is also important to note here that our Adwords professionals will not disclose to anyone confidential information relating to your advertising campaigns. Our health check simply gives you the opportunity to receive a completely free, no-strings attached analysis of your Adwords campaign.

Free 30-Day PPC Account Optimisation Trial
A Simple Demonstration of our PPC Tools & Services
Following the receipt of your health check, we may offer you a free, no obligation 30-day trial of our PPC management tools and services. This will be encouraged if we feel we can improve the performance of your campaign.
No Payment Whatsoever
We believe this is our chance to demonstrate the significant benefits our PPC services can have on your business, so our 30-day trial of course involves no payment whatsoever. It's genuine, and to ensure you have this peace of mind, we do not ask for any payment details.
Full Control & Communication
From the moment we begin working with you, you will always be in full control of your Adwords account.
At the beginning of your trial you will be assigned a qualified account manager to handle your account. This person will be your point of contact and will make sure you receive all of the knowledge you need, and give you the peace of mind that you will always be maximising your profit. Daily reporting means you will have full knowledge and control of your advertising.
Of course, the level of control you have is entirely up to you. Any larger modifications made such as the creation of new Adgroups will require your approval. It is also important to note here that we will never modify your daily budget without your written permission.
As well as daily and weekly reporting via telephone and e-mail, your account manager will always be accessible. You will be allocated a 24 hour support SMS number ensuring you can alert us at any time.

Continuation of Sayu's PPC Management Services
Continuation Vs Cancellation
Following your free trial period you can decide if you want to continue using our services.
Our end of trial report will help you evaluate the impact our PPC tools and services have had on your business. This will be an honest and statistical summary addressing the improvements made to your account.
If you decide not to continue there will be no charge and we can either roll back your PPC account to exactly how it was before we started your 30-day trial or you can keep the expanded keywords, it's up to you.
If you decide to continue using our services, once again there will be no charge for the first 30 days of our management services. Thereafter a simple contract, with minimal commitment will take course.
Simple Contract, Minimal Commitment
Our contract is very simple and continues to leave you in control.
Cancellation of our PPC management services is simple, and at no time will you feel locked into a long-term contractual agreement. We request a notice period of only one calendar month in writing.
Our billing cost is relative to your monthly PPC advertising spend. The cost of our management services will be the equivalent of 10% of your pay per click expenditure for the previous calendar month, with a minimum cost of £125.00 and a capped maximum of £1,250.00.
To confirm our short and simple contract has no hidden catches, you can download it now

What do we need in order to carry out your health check?
Your Google Adwords Customer ID
Our analysis aims to give you honest and accurate strategies that are individual to your campaign. In order to carry out a thorough health check, it is therefore important for our Adwords Professionals to view the keywords and Adgroups that make up your campaigns.
To provide us with this information all you need to give us is your Google Adwords Customer ID. This allows us to invite you into our 'My Client Centre'.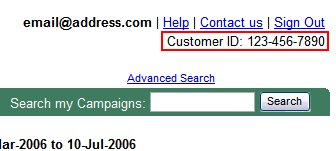 My Client Center (MCC)
Once you have provided us with your Google ID, you will receive an invitation from Google on your adwords home screen: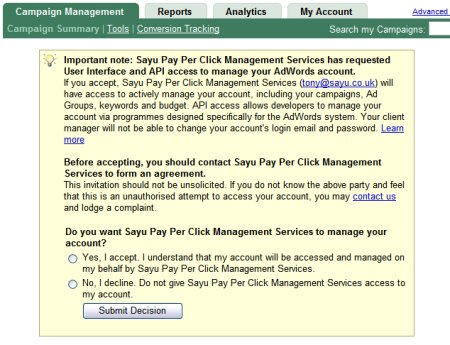 As Google authorised Adwords Managers, this process is necessary to ensure we don't break their terms of service. Your acceptance of Google's invitation essentially allows us access to your account to perform our analysis for you.
Following your acceptance of Google's invitation, when you log into your Google account thereafter you will be a part of our MCC. Of course, you will be able to leave our MCC and disable our access to your account at anytime.
A Written Report, No Campaign Alterations
We would like to reassure you here that our Health Check involves no alteration of your campaign whatsoever, and you will be able to monitor this throughout your time within our MCC.
The complete process is 100% observational and our Adwords professionals will simply examine the elements that make up your AdGroups. From this, they will produce a detailed written report that will inform you of any factors that need improving, and how these can be improved so as to increase the amount of profitable traffic coming through to your website.

Sign Up Now!
If you need help filling in this form, you can watch a flash movie to help you get the details that you need.

Questions? Want to talk to someone?
If you have any questions, want to sign up over the phone, or just need reassurance that you are dealing with a real company, don't hesitate to e-mail us or give us a call: