Google Shopping Rankings Strongly Correlated with Google Organic Rankings
by Dr Gerda Arts, Head Statistician, Sayu Limited

When searching on Google Shopping and results are shown by relevance (which is the default), what does relevance actually mean?
If you think the fields in the Google Merchant feed determine how relevant the product is to the search, you could be wrong!
Although the product/category and other fields in the Google Merchant feed could play a role, it seems there is more to it than that if you want to achieve high rankings in the Google Shopping results. A google employee pointed out that title and description tags on the landing page could affect the ranking, with better ranking being achieved if those tags are also relevant to the product searched for.
If that can have an affect on the ranking, are there any other factors outside the Google Merchant feed that are affecting the ranking? In particular, could it be that any factors affecting Google Organic rankings are also a factor in the Google Shopping ranking?
We investigated the relationship between Google Organic and Shopping rankings, recording positions for around 2,500 product related searches on both Google Shopping and Google Search. We recorded the pages ranking in the top 20 on Google Shopping, and in Google Search we recorded all pages in the top 100. There were 7,242 pages showing in the top 20 on Google shopping as well as in the top 100 on Google Organic.
For the pages showing in both results, we found a highly significant correlation between the two rankings. Spearmans correlation coefficient (see footnote) is 0.62. This is quite a strong correlation, implying that there is a lot of overlap between rankings on Google Search and rankings on Google shopping.
In other words, pages that rank well on Google Organic are very likely to rank well on Google Shopping as well. Figure 1 illustrates the relation between the two rankings.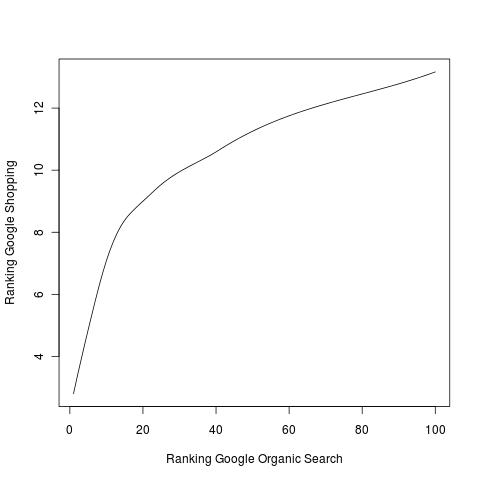 Figure 1: Relation between ranking on Google Shopping and Google Organic Search.
Such a high correlation seems to suggest that a lot of the factors affecting Google Organic Search rankings also affect the Google Shopping rankings. Even more reason to think about doing SEO work on your site, as you will not just benefit on Google Organic Search, but also on Google Shopping.

Footnote: Spearmans correlation can be between -1 and 1: 0 if there is no correlation between the measures, 1 if the ordering of the two measures is exactly the same, -1 if the orderings of the two measures are exact opposites.