Yahoo's Hot Topics Can Cause Big Losses
by Dr Gerda Arts, Head Statistician, Sayu Limited 
On Yahoo UK's main page (uk.yahoo.com), you can find links to the latest news stories, sport and entertainment.  Many of these links go to the actual articles but not  all of the links in "Today's Hot Topics" do.
Some of the topics today (19th July) are no surprise, like Dark Knight Rises (the latest Batman movie opening on 20th July), linking to uk.movies.yahoo.com/dark-knight-rises.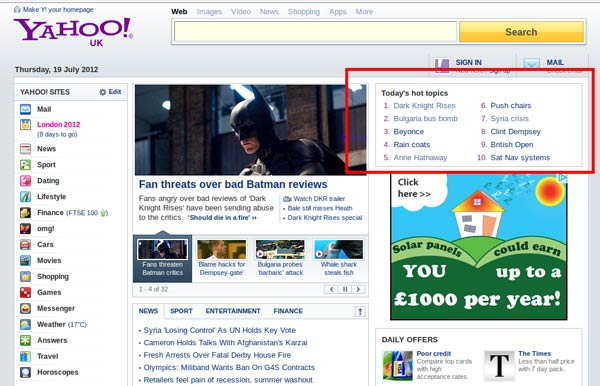 Two news related topics in the top 10 are Bulgaria Bus Bomb and Syria Crisis, which link to pages on uk.news.yahoo.com, with the latest on these news stories.
However, there are a few entries in the top 10 that seem out of place. Although it has been very wet recently, is "rain coats" really a hot topic at the moment? And what about "push chairs", what is so hot about push chairs that it appears in "Today's hot topics"?
I'm sure people would want to try to find out by clicking on the link, only to find a yahoo search results page with links to e-commerce websites trying to sell you a rain coat or push chair. Not any quirky stories on rain coats or push chairs to be found. Of course we also find paid ads on the search results, which could generate extra income to yahoo.
On 30th June and 1st July, one of the terms in the list was a popular keyword of one of our clients advertising on bing/yahoo. This keyword normally gets 50-60 searches a day on bing/yahoo combined. On 30th June/1st July this increased to around 1100 per day, with the majority originating from people clicking on the link on uk.yahoo.com going to a search result of the keyword. These impressions resulted in 200 clicks per day with an associated cost 20 times the usual level.
So clearly Yahoo benefits by putting some links to searches with paid ads on it, as it can generate a lot of extra revenue. For people advertising on those terms it wouldn't be a problem if the extra traffic generates sales. Unfortunately this didn't happen for our client. Conversions were higher than normal - on average 5 a day during 30 June/1 July, compared to 2 per day on "normal" days. However, 3 extra daily conversions didn't make up for the substantial increase in cost.
So advertisers, be aware! If you see a spike in traffic in bing/yahoo on any particular day, one of your keywords may have been in yahoo's "Today's hot topics"!.It may not be as hot for you as it is for Yahoo.
Latest From The Sayu Blog
Here's What People Say About Us
Knowledgeable
We cant thank Sayu enough for all of the great support over the years and now even more the transformation of our Google Adwords account. Catherine has managed to drastically improve our conversions and reduce the cost at the same time! Many thanks again to the great team at SAYU!
stephen
Outstanding!
Knowledgeable, professional & reliable. We are in safe hands!
Grant Wallett
Customer for over 8 years
We have been working with Sayu for over 8 years and have enjoyed a consistent, professional service on all one off projects and repeat services from SEO, PPC and shopping feeds to hosting.
J Duggleby