Link Building
in igaming
We recently published an article based on our analysis from the iGaming sector as it had turned up some unexpected results in terms of the link building strategies for some casinos and affiliates.
Crucially we identified that there may be a resurgence in the use of 'old school' link building techniques which appear to be yielding results. Essentially, we're talking about the use of increased volumes of low quality backlinks and targeted anchor text.
Need Help with iGaming SEO?
Call Us On 01642 66455001642 664550
Pre-2012 this approach was employed by a great many companies and agencies across all regions and sectors. Then in 2012 the first iteration of the Google Penguin update arrived and everything changed with guidelines for link profiles and link building becoming increasingly tighter. The effectiveness of link weight also appeared to be vastly diminished, but links still remained an important signal.
There have also been many other changes to the Google algorithm thrown into the mix with regards to content, page speed, UX, mobile compatibility and structure along with updates which related to Penguin and links. Our findings have identified that something appears to have changed when it comes to link building.
What happened with
kingcasinobonus.co.uk?
The last article highlighted that kingcasinobonus.co.uk had gone from almost no visibility in October 2017 to the most visible site for online casino related terms by March 2018. We found that there has been a significant increase of in-bound links over a short period of time.
In June 2018 we've gathered data relating to 978 search terms for online casinos and compared the results to the same data from March 2018 and found that 3 months on kingcasinobonus.co.uk is still the most visible website.
Overall the strong visibility the site established in March has remained relatively unchanged. Of the 978 search terms in our dataset we found that 27 were in a lower position; however, 20 search terms had improved over the same period.
Some of the keywords that had improved have significant search volume such as 'no deposit bonus' which improved from 8th to 3rd and has a search volume of 33,100 (figure includes close variants). Other search terms remained unchanged such as 'no deposit casino' (3rd position) has a search volume of 14,800.
Listed below is a snapshot of popular terms that been achieved in terms of high visibility (positions 1-3) for kingcasinobonus.co.uk:
| Keyword | search volume | ranking |
| --- | --- | --- |
| Free spins no deposit | 49,500 | 1 |
| No deposit casino | 14,800 | 3 |
| Free spins no deposit uk | 12,100 | 1 |
| 10 no deposit bonus | 5,400 | 1 |
| Free 5 no deposit casino | 6,600 | 2 |
| UK casino | 14,800 | 3 |
| Free 10 casino no deposit required | 5,400 | 1 |
The link profile continues to grow
The backlink profile has continued to grow as the graph below shows.

This activity has continued in May and June.
Utilising varied anchor text
With anchor text links they are targeting a diverse spread but links have been predominantly focused on brand, which makes up 23% of link anchor text. The graphic below shows a breakdown of the top anchor text.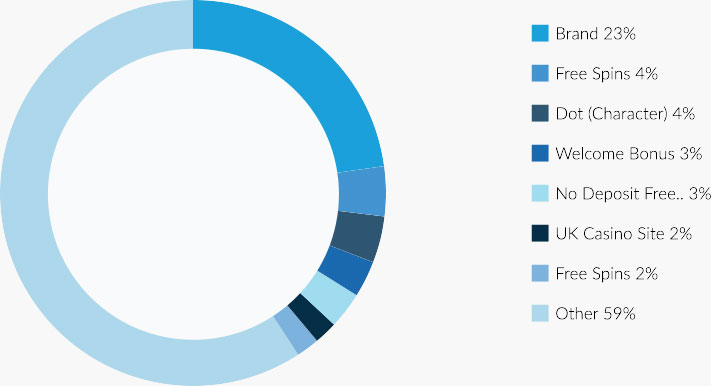 When will Google respond?
It's looking very likely that something has changed with how Google is evaluating links. Links have always played an important part in SEO and because of the potential revenue involved we predict that there is going to be scramble of activity in Q3 and Q4. We'd not expect the bigger players in the market to follow this track, but there are probably plenty of companies out there willing to take the risk.
One thing is for certain though, Google will respond at some stage, particularly if their advertising revenues are affected as budgets will get siphoned off to chase potentially cheap organic traffic. Google penalties may not be so common these days but the threat of a full or partial suppression still exists.
Our advice...don't build spammy links!
We're optimisation experts. Do you need help increasing traffic?
Call us on 01642 66455001642 664550 to find out more.
Latest From The Sayu Blog
Here's What People Say About Us
Knowledgeable
We cant thank Sayu enough for all of the great support over the years and now even more the transformation of our Google Adwords account. Catherine has managed to drastically improve our conversions and reduce the cost at the same time! Many thanks again to the great team at SAYU!
stephen
Outstanding!
Knowledgeable, professional & reliable. We are in safe hands!
Grant Wallett
Customer for over 8 years
We have been working with Sayu for over 8 years and have enjoyed a consistent, professional service on all one off projects and repeat services from SEO, PPC and shopping feeds to hosting.
J Duggleby