Increasing Sales with Smart Product Page Design
1. Show Off Your Sunglasses with Hi-Res Images
It's essential visitors are able to get a real feel for the quality, finish and style of the sunglasses through the images available to them. Shoppers obviously can't pick them up, inspect them and try them on as they do on the high street, therefore the product images have to help overcome these limitations.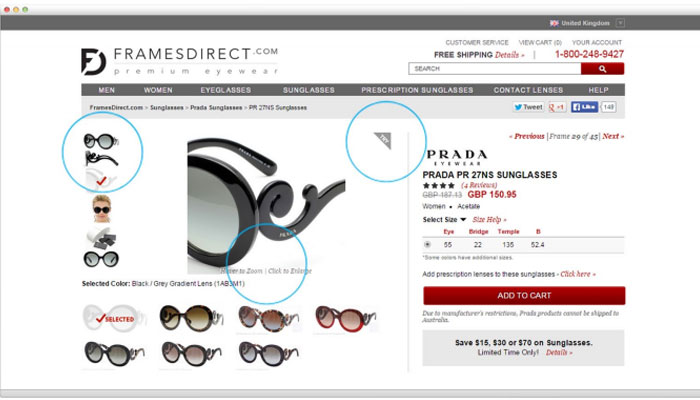 FramesDirect.com is a great example of how to do it right. They offer the visitor the ability to view their selection at a variety of angles, zoom-in for closer inspection and view the sunglasses on a model allowing customers to see how they look in a more realistic and 'to-scale' setting. Visitors can even upload an image of themselves to get an idea of how they might look.
In the 3 case studies described here: larger images led to an increase in conversions.
2. Be Transparent with Delivery & Returns Info
One of the first queries visitors often have in mind once they have decided to buy online is to do with delivery; "When will it be delivered?" and "How much will delivery cost?"
Data from a recent comScore survey shows that one of the most important factors when checking out online is seeing the estimated delivery date and shipping cost early in the shopping process, with 63% of respondents agreeing on this. The research also showed that the most popular reason shoppers abandoned a checkout process was because the shipping costs made the total purchase cost more than expected.
So clearly it's important to state the delivery and returns information upfront.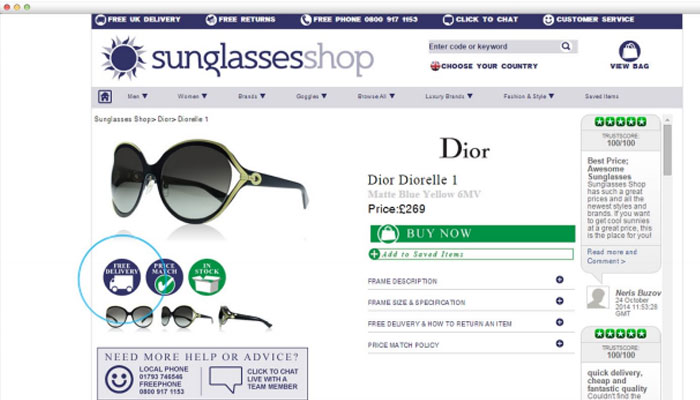 Sunglassesshop.co.uk is a great example of a product page that effectively communicates their delivery terms. They offer free, next day delivery; so they shout about it!
3. Drive Impulse Buys with Stock Information
Emphasising the prospect of something being in short supply can create a sense of urgency about getting your hands on a product. A clever way of achieving this online is to visually alert visitors when the product they're looking at is running low.
EyeEarBrands.com does a great job of this by highlighting when stock levels are low for certain products.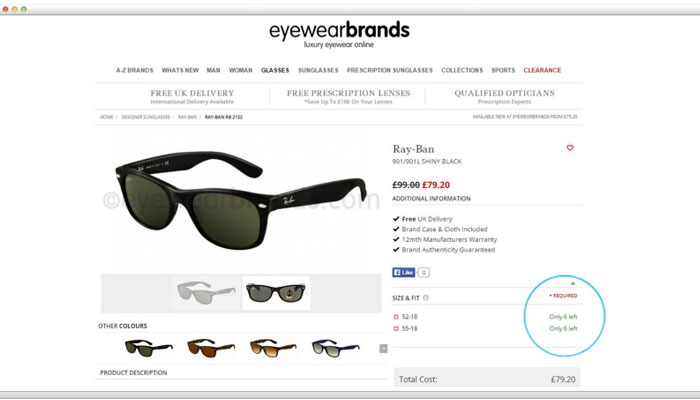 Creating urgency can force the difference between a visitor saying "I'll have a look elsewhere and come back later" (and then never doing so), and actually buying there and then
4. Upsell Your Products
Are some of your products made of slightly better material? Or does the lens come in a more popular colour?
Showing shoppers similar products, or a display of products from 'customers that bought this also bought', can encourage users to buy more expensive items, or increase their basket size. The trick is to be clever and choose product suggestions based on 1) how related they are to the original product and 2) being sensitive to the price range of your customers.
According to PredictiveIntent, on an analysis of their client base, over 4% of sales were driven by upselling, whereby visitors were shown similar, more expensive products than the one in view.
RayBan do a great job of this by inspiring visitors to customise (and add £'s to) their selection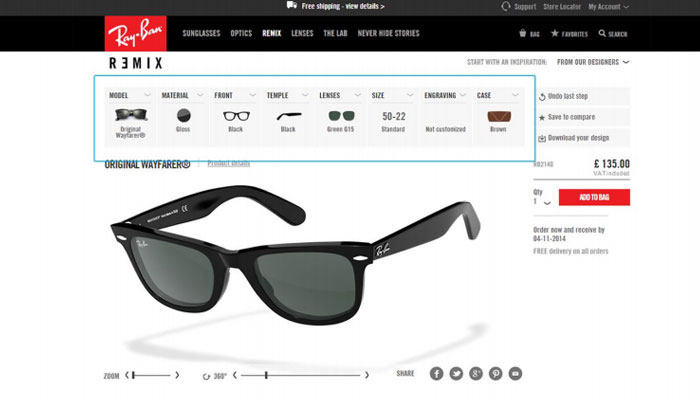 Round Up
Product pages can make or break a sale and by testing various aspects on a page you will be able to identify the main elements that drive sales on your website
Remember:
Multiple high quality images can help to increase conversions as users are able to make a more informed purchase decision as to whether a product is right for them.
It's possible to influence the customers 'impulse to buy' using clear calls to action and by adding elements that encourage an urgency to purchase – such as stock levels.
Display important purchase information clearly, such as delivery costs early in the shopping process as its one of the main reasons for online shopping basket abandonment.
Make the most of features and benefits, such as free delivery. If you offer it display it prominently, above the fold on all pages.
Once a customer enters the sales cycle try to increase the basket value by up-selling and cross selling other products.
Latest From The Sayu Blog
Here's What People Say About Us
Knowledgeable
We cant thank Sayu enough for all of the great support over the years and now even more the transformation of our Google Adwords account. Catherine has managed to drastically improve our conversions and reduce the cost at the same time! Many thanks again to the great team at SAYU!
stephen
Outstanding!
Knowledgeable, professional & reliable. We are in safe hands!
Grant Wallett
Customer for over 8 years
We have been working with Sayu for over 8 years and have enjoyed a consistent, professional service on all one off projects and repeat services from SEO, PPC and shopping feeds to hosting.
J Duggleby