Call 0800 634 8283
Sayu Web Admin Control
The SayuConnect Web Admin dashboard is shown below (Note: It may vary slightly based on your specific website settings).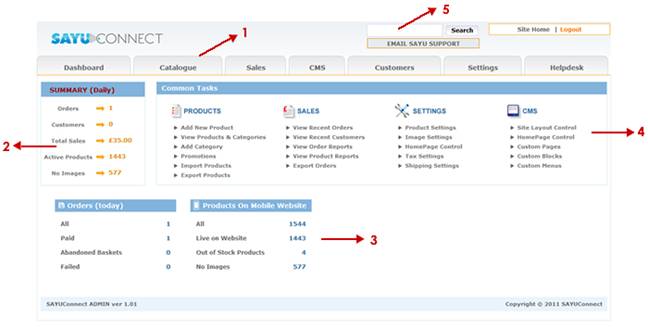 1 – Main Navigation: This will be present on all the different sections of the web Admin giving you easy access to navigate between various sections.
2 – Summary (Daily): This section provides a quick summary of the orders, registered customers, total sales, active products and products without images on daily basis.
3 – Orders and Products Summary Tables: Based on your SayuConnect set-up these tables provide the summary of products, orders based on order statuses, etc. for one or multiple font-end stores.
4 – Common Tasks: This section provides direct access to most of the common tasks that can be performed using the Admin (such as adding products, viewing orders, exporting order, viewing reports, etc.).
5 – Global Search: You can search across your entire product catalogue using the Global Search. This remains present throughout the web Admin.
In this guide the navigation through the Admin will be represented in this format: Catalogue Products & Categories. This instructs you to move your mouse over the "Catalogue" tab in the top menu and click on the "Products & Categories" link in the drop-down menu.

Please refer to the screen-shot(s) below for more clarity:

The screen-shot below represents the path: Catalogue --> Products & Categories
Direct Link: http://www.sayuconnect.com/admin/admin.php