Call 0800 634 8283
Product Import
The product catalogue can be exported or updated using the import functionalities of the SayuConnect Admin. These options are available on the Actions menu of the Catalogue -- Products & Categories section.
Note: For product updates we recommend using the export functionality first to select required fields along with the Product ID and generate the product file. Then you can update the exported file, save it and import it to update your products.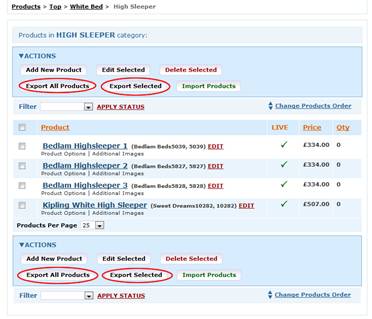 Product Import Functionality
The product import functionality is helpful when adding new products or updating existing products in the system. You can use this feature to bulk update existing products (such as changing prices, stock levels, etc.).
Clicking on the "Import Products" button from the "Actions" menu will take you to the Import Products  section. Here you have the option to define the file delimitation (Comma, Semi-Colon, etc.) before selecting the import file stored locally (on your PC) using the "Browse" button. Alternatively you can specify the path to the file if it is stored remotely. Once you have chosen the file click the "Upload" button (for locally stored files) or the "Continue" button (for remotely stored files). You will then be taken to a page where you can map the fields from your input file with the database fields, as shown below.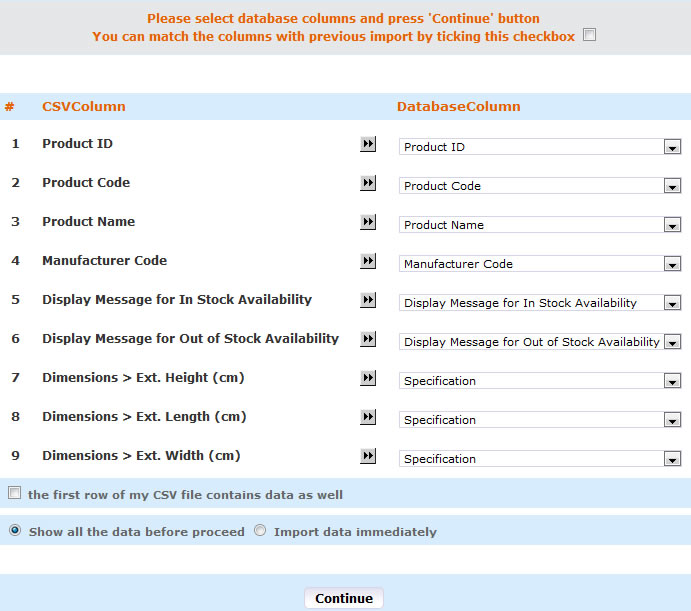 Note: When using the import feature to update existing products, a product key field must be used to match the existing products with the products in the import file. By default the Product ID created by SayuConnect is used as the product key field. If the product key field is left blank, the system will treat this as a new product and add it into your product catalogue. You can change the product key field to Product Code or Manufacturer Code in the Catalogue -- Products Settings section under the "Import/Export Settings" heading.
You are advised to use the "Show all the data before proceeding" option at the bottom of the import table since this will allow you to preview your import data when you click "Continue".
The data preview page shows you a brief preview of your import data and lists any errors. It also informs you if a product is new or already exists (new products will be added and existing products will be updated).
and also allows you to select which products you wish to import.
You can then select which products you wish to import by using the individual tick boxes against each product or ticking the box at the top of the column to select all products.
Click on the "Import" button to add/update your products. You will be given a confirmation on the following screen.