Call 0800 634 8283
Product Export
The product catalogue can be exported or updated using the import functionalities of the SayuConnect Admin. These options are available on the Actions menu of the Catalogue -- Products & Categories section.
Note: For product updates we recommend using the export functionality first to select required fields along with the Product ID and generate the product file. Then you can update the exported file, save it and import it to update your products.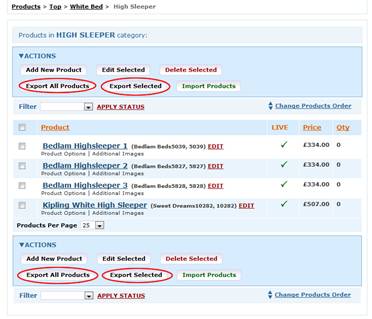 Product Export Functionality
You can export all or selected products using the "Export All Products" or "Export Selected" buttons. After clicking one of the buttons, you will be presented with a screen allowing you to choose the product fields that you wish to export. This includes fields like Product ID, Product Name, Price, Description, Images, etc. You also have the ability to export which categories the products are assigned to by choosing the Category field. Product Options and Specification are also available – they will show up as Option Names (e.g. Colour, Size, etc.) or Specification Names (e.g. Dimensions > Length, etc.)
You can choose the field delimiter for the format of the export file from Comma, Tab, Semi-Colon or Vertical Bar (Pipe).