Call 0800 634 8283
Local Search Engine Optimisation (SEO)
Why You Need Local SEO
If your business operates within a certain location or caters to a local audience, Local Search Engine Optimisation will help you target the right people searching online for your products and services.
The acceleration in local search volumes means Google are increasingly showing search results based upon the specific location of users. So the results of a search are often based on where people are physically located when they search and on the increasingly specific search terms they use to find local products and services.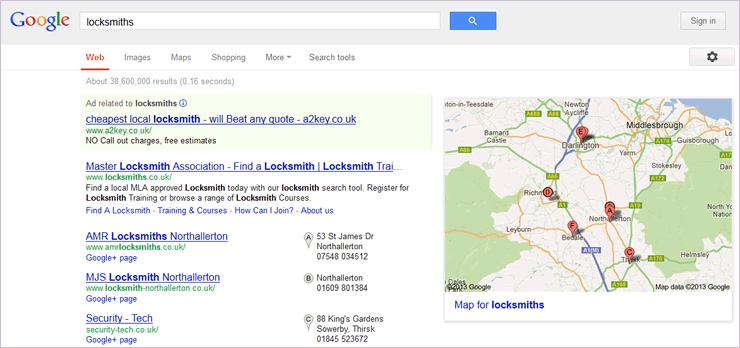 The above is an example of a Google Local Search Results Page
The significant growth in mobile technology has also led to a significant shift in the way people search and shop online, with 1 in 3 mobile searches reported to be by users searching for local businesses and services. Local map rankings are perfect for businesses that want to be found by people shopping on-the-go; with a high intent towards making a purchase.
We've helped to increase enquires and business significantly for local businesses that rely on enquiries and footfall in their local area; such as locksmiths, plumbers and hairdressers.
How Does Local SEO Work?
Achieving a higher ranking locally has intensified as more companies are recognising the significant advantages of local SEO.
We're experts in delivering a customised Local SEO service to set your business apart from your competition. The service's aim is to increase the visibility of your business by increasing the position on Google's local search results when users are searching for your products and services you provide.
The service includes the following:
Google Plus Local Optimisation
Set up/ Verify Google Plus Local Page
Optimise Google Plus Local listing for better visibility
Set up/ Verify Google Plus Business Page
Enhance and personalise Google Plus Business Page
Website Optimisation
META Tag Optimisation
Content Optimisation
Implementation of Local Business Schema
Off-site Optimisation
Submissions to relevant local business directories, such as Thompson Local, Yell & Qype to help verify Business Name, Address and Phone Numbers
Submissions to relevant niche business directories
Guidance to help gain positive reviews
Reporting
A monthly progress report for 3 months to show progress and improvements.
If you want to learn more about our Local SEO services call 0800 634 8283 today.
FREE SEO Review
We're able to analyse your website and sector to provide a free review and discuss how we can help you to increase the visibility of your business.
To find out more about how we can drive your campaigns forward call us on 0800 634 8283 0800 634 8283 or if you'd like us to contact you, please complete the form below and we'll get straight on it.