Call 0800 634 8283
Additional Images (Product Attributes)
Additional images can be added to a product. These could be to show different variations of a product, product views from different angles or accessories that come along with the product, etc. The additional images will be displayed on the product details page.
After clicking on the "Additional Images" link, click on the "New Image" button on the page that loads.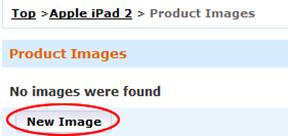 The fields available for the new image are explained below:
Image Title – This is the title of the image.
Image Position – You can specify whether you want the image to be displayed below the main product large image or in a separate section further down the product page.
Small Image – This is a small thumbnail or preview image. This image is usually has a roll-over effect that displays the large image, and when clicked on opens the super-sized image in a new window.
Large Image – This is a large image which can be viewed when you move your mouse-over the small image.
Super Image – This is a super-sized image that can be opened as a pop-up when you click on the small image.
Image Description – This is a short description or strap line that can be used to describe the image.
For each of the image fields, an Upload Image / Select Image feature is available, which allows you to upload an image or select a previously uploaded image. Note that smaller images can be automatically generated when you upload larger images, for example you can generate the large and small images from the super-sized image.