Press Release & Article Marketing
Build brand awareness, inbound links and drive traffic to your site with Press Release & Article Marketing.
Distributing search engine optimised content, in the form of press releases and articles, is an effective online marketing strategy which aims to gain your website online exposure and visibility. By building exposure around your brand, our team of SEO (Search Engine Optimisation) specialists aim to draw targeted traffic to your website and obtain permanent, relevant back links. The quantity and quality of these back links pointing to your website is used by the search engines to determine the positioning of a site in the organic listings.
The objectives of press release and article marketing correlates strongly with traditional offline PR. Online PR utilises mediums such as the search engines, blogs, news search engines, social networks and other online communication tools.
A quarter page advert in a newspaper can cost thousands of pounds; where as online publicity is much cheaper. The growth of Internet retailing and the ability for much smaller companies to compete with larger companies to be 'visible' online, issuing press releases and articles is a successful strategy.
By widely distributing articles and press releases across the web, they can be republished multiple times by webmasters seeking expert content for their website; each time generating a back link back to your website.
Our Service
SEO Copywriting
The web provides a level playing field for small and medium sized businesses, enabling you to reach your target market directly via the search engines and news search engines. If you don't believe you have any news to shout about, or any advice to share, let our SEO specialists advise you.
By researching your industry and current trends, and by working with your company and the information you give us about your target market, we can develop a professionally written release or article that effectively targets your market.
Whether you want to announce a new line of products, boast about your competitive pricing, or shout about your presence at an important event, our expertise in press release creation is tailored to your company's needs.
Likewise, if step-by-step guides, educational white papers or articles that explore frequently asked questions are more appropriate to your business, and more likely to generate targeted traffic to your website, then Sayu can craft expert articles.
We will ensure your content is optimised for key terms important to your SEO campaign and that anchor text is built into your press release or article to link with related content on your website.
Our skilled writers will take care to communicate a clear and viable message to encourage click-through's to your website.
SEO Distribution
Following the approval of your content, each article and press release is widely distributed.
For every campaign Sayu compile a bespoke distribution list.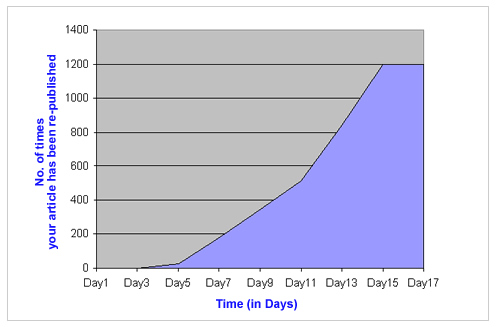 * The performance of a press release can differ from industry to industry. The graph above illustrates how a press release can virally spread across the web, on related websites, as a result of press release distribution.
As well as sending your content down powerful online channels that feed the search engines and make your content available to webmasters, Sayu seek out specialist publications with an aim of generating authority back links and thereby driving targeted traffic to your website.
Delivered directly to the inbox of website editors, newspaper and magazine editors, blog and forum editors, this strategy is proven to generate strong back links and help with search engine positioning.
At the distribution stage of our service, we offer multiple packages that vary in SEO reach. Using our experience of the market place and your business sector we will advise the right package for you. Our distribution packages are as follows.
Press Release Distribution
Standard fee - £250.00 (+ your choice of distribution package)
Standard Distribution
£40.00
Standard Distribution + Social Media Reach
£60.00
SEO Distribution
£100.00
Media Distribution
£180.00
Industry Specific News Sites & portals
Regional & Local Newspapers (Opt-in email)
Business magazines, specialist publications & ezines (Opt-in email)
Google Base
A Network of Media websites and Newswires
News made available to Google News, Yahoo! News & Other search engines
Bookmarking Enabled
Accompanying Image made available to the News Search Engines
Keyword-rich Anchor Text Links
Distribution through the Associated Press & Video Feature Alongside Press Release
Article Distribution
Standard fee - £250.00 (+ your choice of distribution package)
Standard Distribution
£40.00
Standard Distribution + Social Media Reach
£60.00
SEO Distribution
£100.00
Industry Specific Authority Sites & portals
Business magazines, specialist publications & ezines (Opt-in email)
Regional & Local Newspapers (Opt-in email)
Google Base
A Network of Popular Article Directories*
10
20
30
Keyword-rich Anchor Text Links
Bookmarking Enabled
Competitor Link Targeting**
* Article directories are repositories or websites that allow authors to feature their articles on. Their main purpose is to provide website and ezine publishers with a centralised repository of content that can be used for free (provided that the articles are kept in tact with their links active.)
** This involves in-depth analysis of your competitors back links with an aim of pursuing article marketing strategies to get a link back to your own site.
Available for publication on your own web page, the editorial provides you with added creditability and keyword-rich content. The ability for visitors to add your news to social media bookmarking websites, such as Digg.com and Del.icio.us.com can then be utilised to drive further, targeted traffic to your website.
SEO Tracking
Our team will track the exposure generated by your campaign.
Our tracking technologies allow us to track the performance of your campaign periodically. As a result we can give you transparent reporting on how many times your article or press release was republished and how many back links were generated as a result.
Following this we can work with you to analyse the response rates and the overall performance of your campaign. By identifying trends it is possible to enhance and refine campaigns.