About Us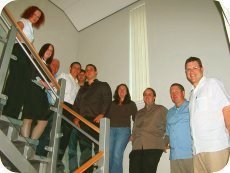 Sayu's award winning team.
Sayu's Pay per Click (PPC) Management History
The growth in revenues of Google (and other search engines) reflects the massive growth in advertisers bidding in the highly competitive PPC auction system. Since there are potentially many bidders and many bids in each auction, to be effective in this arena an advertiser must bid on many thousands of keywords. The performance of these keywords needs to be monitored at least daily to ensure they maintain a good Return on Investment (ROI).
Sayu's knowledge in this highly competitive arena follows years of practical experience with over 100 e-commerce websites.
Sayu's PPC keyword management expertise, coupled with their proprietary automated PPC bidding software has helped clients increase their conversion rates and overall ROI substantially. By targeting specific keywords, where the cost per click (CPC) is lower and the click through rate is higher, Sayu have increased relevant traffic for their clients, and reduced their overall advertising spend.
Notably, Sayu's PPC Case Studies illustrate how one clients' advertising spend has been reduced by an amazing £45,000.00 per month.

Sayu's Automated PPC Advertising Tool
Using sophisticated algorithmic methods to measure the performance of many thousands of keywords, the bidding tool can automatically forecast a bid amount that will give the best ROI over the next period (usually 24 hours).
The bidding software is designed to replicate real world situations, and increase the accuracy of bid forecasts. This is coupled with advanced integration via computer programming with all of the major search engines; thus giving Sayu a world-beating tool that allows its clients to compete efficiently in the PPC advertising arena.

Sayu's Goal
The PPC search arena has changed and the emphasis is now on offering 'quality' adverts (creatives) to potential customers to increase relevancy and conversion rates. By focussing on this, Sayu aim to help their clients get more profit out of their advertising spend.
By targeting specific keywords, at a lower CPC, Sayu are able to target the advert creative more specifically to the searcher's requirements. This drives profitable customers to a client's website. Carefully targeted ads will additionally reduce the amount of unprofitable traffic clicking on the sponsored links, and can also enhance conversions more so. (See White Paper: Google Adwords: Using the Long Tail to Optimize your Google Adwords ROI for an in depth account of this strategy).
The Sayu team are committed to helping smaller and medium-sized enterprises to compete successfully against much larger e-commerce companies. PPC advertising creates a level playing field for smaller businesses, and by careful choice of PPC parameters, Sayu are able to help clients efficiently compete with larger national/ multinational businesses, at a realistic cost.
Sayu have a simple, affordable and transparent pricing policy. The monthly management charge is 10% of a client's monthly advertising spend, with a minimum cost of £125.00. To help the client assess Sayu's services, the Company offers a Free Health Check of existing Adwords and Overture campaigns, and operates a no obligation 30-day free trial of their PPC tools and services.

Sayu's PPC Management Team
The PPC management team at Sayu are made up of individuals qualified to degree, MSc and PhD level, specialising in Mathematics, Statistics, Programming, and Linguistics.
To actively promote professional development in all areas of the business, Sayu engage in a continuous training program to qualify each member of the team as Google Adwords Professionals, and are actively pursuing 'Investors in People' status.
The 'Investors in People Standard' is about giving a business like Sayu the framework and structure to ensure the right knowledge, skills and motivation is present within a team to achieve success. To accomplish this benchmark, the Sayu team have an effective training and development programme in place, and a framework for developing future strategy and action.

Award-Winning PPC Excellence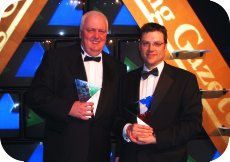 Sayu at the Tees Valley Business Awards
The automated Internet Advertising Tool employed by Sayu recently scooped both the 'Internet and ICT' award, and the 'Innovation' award at this year's Tees Valley Business Awards. The 'Internet and ICT' award was presented for leading edge use of Internet technology to enhance their business. The 'Innovation' award was achieved for developing innovative, automated management systems that efficiently manage the company's growing client base, and profitable keyword bidding campaigns for their customers.
This triumph led to the Company becoming finalists at the North East Business Awards, where they scooped the 'Internet and ICT' award once again.

Where Are We?
The Sayu team is based in Stockton-on-Tees.
The Company actively encourage and welcome visits from prospective clients that are interested in gaining a better understanding of the Sayu team and their PPC management services.

Contact the Sayu Team
To arrange your FREE Health Check and no obligation 30-day trial of Sayu's services, please fill in our Health Check form. Alternatively to contact us for any reason please see our contact page.