Call 0800 634 8283
Custom Blocks
Custom Blocks
Custom Blocks can bee accessed by going to CMS -- Custom Blocks in the top menu.
Custom blocks are HTML/text blocks that can be used in any part or section of a website.
Below are various examples on how the custom block can be implemented.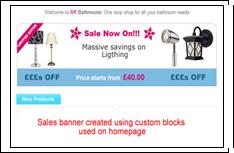 To add a new custom block, click on the "New Custom Block" button at the bottom of the Custom Blocks table.
You have the following options available in this section:
Administrative Information

Block Name – This name is used for identifying the block. This will not show up on site and is meant only for reference.
Block Notes – This field is used for describing the custom block. Again, this field is only meant for reference and will not be displayed on the website.
Appearance on page
Block Title – This is the name of the block and will appear on the website (note that this can be left blank if you don't want a title to appear on the custom block).
Get Content from File – You have the ability to specify a path or URL from which content can be fed into this block.
Block Content – This is the actual content of the block. As represented above, you can either enter text or HTML, or even upload an image to this field.
There is a WYSIWYG editor available for this field which allows you to write HTML content or upload an image.
The options available on the WYSIWYG editor are explained below: